Metal Closures
BottleStore carries metal screw cap in all sizes, in multiple color options and liner types made to order. We have the capability to supply threaded metal closures at a very competitive price and short lead time of between 1 to 2 weeks for most liner options, and 3 weeks for Plastisol liners.
We offer metal screw caps with multiple liner options, friction fitted, glued insertion liners such as pulp and poly, pulp and foil, pressure sensitive (PS22 printed), induction seal (HS035 printed), or plastisol liners.
If you are still unsure what liner works best for your product, or you wish to chat with us about your metal closure needs, simply call us at 866.BUY.BTLS.
Narrow Your Results
Neck / Closure Diameter

Neck Finish
California Prop 65- BPA

This product may have a protective coating system that contains Bisphenol A, also known as BPA, which is subject to California's Proposition 65 (Prop 65). For any products utilizing this metal lid for sale in the State of California, warnings may be required as of about May 11, 2016. You can find information on Prop 65 at http://www.oehha.org/prop65.html, and a variety of other resources are available online. BottleStore is unable to providing advice to you regarding whether, and in what manner, you may be obligated to provide warnings in accordance with Prop 65.
Difference between Tin-Plate and Aluminum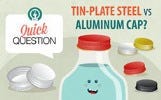 When you are choosing the perfect metal screw cap for your product, there are two main material choices: tinplate steel coated with anti-corrosive coating, or aluminum. So what's the difference? here.
Pallet Quantity Cost And Shipping Options
If you wish to order a pallet or more, please contact us at 866.BUY.BTLS or email us here for pricing and LTL shipping options.