Craft Beer Bottles, Jugs, Growlers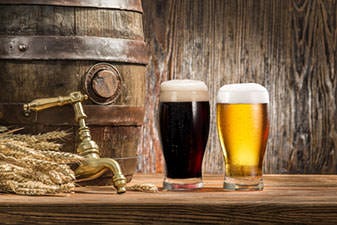 Glass Bottles, Jugs, Growlers for Making Your Own Beer
Beer lovers are making batches of their own craft beers at home more than ever before. American craft beer businesses are booming and craft beer festivals are a popular destination within the craft beer industry. If you've been creating your own craft beer, it's a great time to start bottling your own brews for friends and family or for a business venture. At BottleStore.com, we offer a large selection of craft beer bottles and growlers perfect for your home brewing operation or commercial production.
Choose from our inventory of sturdy glass growlers and craft beer bottles in a variety of sizes. We offer the popular amber-colored glass bottles to preserve your beer's quality over time. Whether you are producing just a few craft beer bottles or plan to manufacture larger quantities of beer, BottleStore.com can accommodate your order. We offer wholesale pricing so you can stay within your budget. If you are not sure about your beer bottle preference, we'll gladly provide a free sample of the bottles and coordinating caps for your convenience.
Planning to sell your craft beer to consumers? Our packaging experts can help you select the right bottle to help your beer stand out from the rest. A unique beer bottle design will grab the attention of shoppers and help consumers remember your brand. Pair your bottle with a custom, eye-catching label to highlight your personality and style. Use different colored caps to make your beer flavors easier to identify. Let our bottle experts help you customize your craft beer bottle order so you get exactly what you want with affordable pricing.
Narrow Your Results
Bottle Size

-

Neck / Closure Diameter

Neck Finish
Pallet Quantity Cost And Shipping Options
If you wish to order a pallet or more, please contact us at 866.BUY.BTLS or email us here for pricing and LTL shipping options.