16oz (480ml) Flint (Clear) Glass Beverage Bullet Round Bottle - 38-1768 Tamper Evident Neck
Manufactured in the USA
100% Recyclable and BPA Free Container
Type-III Soda Lime Glass
Food Contact Safe
Wide Mouth Opening For Easier Access
Ideal for Carbonated Beverages
Additional Information
More Information

| | |
| --- | --- |
| Price Per | $1.55 |
| Size | 16 |
| Over Flow Capacity | 502.74 |
| Color | Flint |
| Material / Resin | Type III Soda Lime Glass |
| Shape | Round |
| Neck / Closure Diameter | 38 |
| Neck Finish | 1768 |
| Diameter / Width | 2.60in |
| Height | 7.98in |
| Item Length | N/A |
| Carton Pack | 12 |
| Cartons / Pallet | 19 |
Shipping / Freight Information
Our 16oz (473ml) Flint (Clear) Glass Beverage Bullet Round Bottle is an excellent container for a wide variety of applications. The tall neck and wide mouth 38mm opening allow for easier filling and access to liquid products.
The neck finish features a tamper-evident neck, compatible with our in-stock, ready to ship 38-1768 tamper-evident closures with EVA disc liners (capable of holding up to 3.5 volumes of CO2 pressure) for a complete, secure package.
This container is popular in a variety of food and beverage applications but can find utilization in additional markets and applications:
Cold-Press Juices
Sauces and Marinades
Carbonated Beverages
Kombucha
Milk Bath and Spa Care Products
This container is compatible with most of our in-stock 38-400 plastic and metal screw caps without tamper-evident features for a complete package solution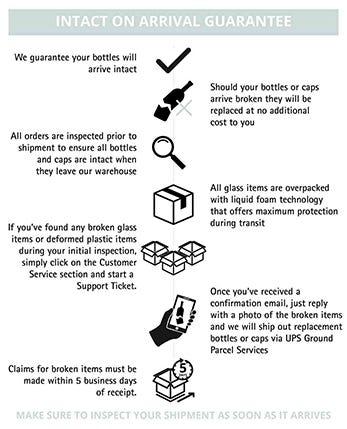 Customer Reviews
Caps hard to deal with

These bottles are great, but the caps are hard to put on. Seems like they are not made for these bottles. Is there another cap that fits?

***BottleStore Response***

Pamela, thank you for your review and recent purchase on BottleStore.com.

You can rest assured that all closures paired under CLOSURE OPTIONS are tested for compatibility with the container before displaying on the site. I understand that you are having some difficulty with your recent purchase, and you can expect a member of our Customer Service Team to reach out to you shortly.

Again, thank you for choosing BottleStore, and don't hesitate to reach out to us in the future.

Glass Bullet Bottles

The bottles are fine. I particularly appreciate you sending them in a box packed with paper, rather than plastic or bubble wrap. They arrives just fine without plastic, proof that it can be done, and important, since bubble wrap is difficult to recycle and bad for the environment. Thank you.

Thank you for sending with paper filling and not bubble wrap. Better for the environment and the bottles arrived just fine.

please don't pester me with reviews every time I order. I don't have time to rate every single thing I order.

Love these bottles

The bottles are great and used to give samples at vendor events.

Awesome bottles

Awesome product, shipped quickly


Perfect

These were exactly what I needed. Along with the bottles being perfect, the customer service I received was even better. Thank you!

Pretty durable, can withstand the natural carbonation of my homemade kombucha

Recommend to anyone needing bottles for whatever it could be however the bottles are a bit pricey

Jars

The jars helped my business.