19.5mm Synthetic Shank 29x13 Cafe Brown Stain Varnish Wood Bar Top
Be the first to review this product
Unique cafe brown stain for enhanced shelf appeal
100% natural wood bar top
Synthetic shank is compatible with a wide variety of condiments and beverages for a secure fit
Ideal bar top system designed for 18.5mm bar top neck finishes
Additional Information
More Information

| | |
| --- | --- |
| Carton Pack | 100 |
| Price Per | $0.71 |
| Neck / Closure Diameter | 19 |
| Material / Resin | WOOD |
| Diameter / Width | 29mm |
| Item Length | N/A |
| Height | 34.5mm |
Shipping / Freight Information
Introducing BottleStore's 19.5mm Synthetic Shank Cafe Brown Stained Varnished Wood Bartop
Elevate your spirits and liquor packaging with BottleStore's premium 19.5mm cafe brown stained varnished wood bartop. Designed to perfectly fit our wide assortment of 375ml spirits and liquor bottles with an 18.5mm bar top neck, this unique closure brings elegance, sophistication, and a touch of class to your products.
Stand Out from the Competition
Rich Coffee Brown Stain: Our cafe brown stained bartop adds a luxurious feel to your bottles, making them instantly eye-catching.
Soft Sheen Varnish: The subtle sheen from our varnished application provides an extra layer of sophistication, ensuring your product stands out on the shelf.
Premium Synthetic Shank: The 19.5mm synthetic shank ensures a secure fit and a tight seal, protecting your product's quality and freshness.
Common Applications & Marketplaces
Craft Distilleries: Make your handcrafted spirits shine with this high-quality closure.
Boutique Wineries: Complement your wine selection with the refined aesthetics of our cafe brown stained bartop.
Special Events & Catering: Impress your guests with a sophisticated touch for your beverage offerings.
Online Retailers: Enhance your online store presentation with our premium bartop closures.
Gift Shops: Add a touch of luxury to your gift sets and hampers.
Conveniently Packaged in 100-Packs
Ideal for Small-to-Medium Businesses: Our 100-pack offering makes it easy for businesses of all sizes to incorporate our premium closures into their product lines.
Cost-effective: Smaller pack sizes mean lower upfront costs for businesses, allowing you to invest in other areas of your brand.
Upgrade your spirits and liquor packaging today with BottleStore's 19.5mm synthetic shank cafe brown stained varnished wood bartop. Trust us to deliver the sophistication and quality your products deserve. Order now and let your bottles stand out from the competition!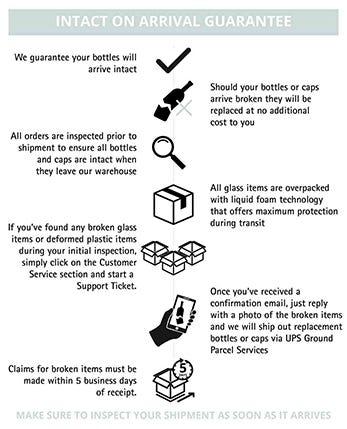 We found other products you might like!