375ml (12.7oz) Flint (Clear) Nordic Spirits Bar Top - 18.5mm Neck
$

2.22
(Per Piece)
12 Pieces per Carton
100% Recyclable Container
BPA Free Type-III Soda-Lime Glass
Classic Spirits Bottle Design
Straight body panel design ideal for silk screen decorating and label application
Clear container for optimum product display
Additional Information
More Information

| | |
| --- | --- |
| Price Per | $2.22 |
| Size | 375ml |
| Over Flow Capacity | 400ml |
| Color | Flint |
| Material / Resin | Type III Soda Lime Glass |
| Shape | Round |
| Neck / Closure Diameter | 18.5 |
| Diameter / Width | 3in |
| Height | 6.9in |
| Item Length | N/A |
| Carton Pack | 12 |
| Cartons / Pallet | 154 |
Shipping / Freight Information
Our 375ml (12.7oz) Flint (Clear) Nordic Spirits Round Glass Bottle is a top-shelf container for a wide variety of liquid and dry products. This container features a classic spirits profile with broad shoulders and a heavy base for a premium look and feel in hand. The tall neck of this container features a blunt bar-top neck with an 18.5mm neck opening. Top off this container with our compatible, in-stock 19.5mm bar top cork shanks for a complete, high-quality package.
This package offers ample space for silk screen decoration and label application for a creative opportunity to optimize shelf presence. Ideal for liqueur and spirit beverages, this container can be utilized in various markets and applications to include, but not limited to:
Syrups
Bath and Spa Care
Bar-B-Que Sauces
Cordials
Kombucha
Sea Salts
Flint (clear) glass enhances product display and best informs on the contents of the container.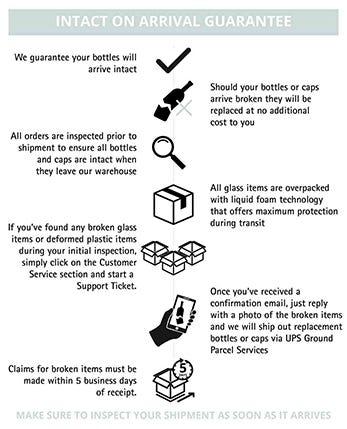 Customer Reviews
Beautiful Bottles, Horrible Cork Tops

Do not, I repeat DO NOT buy these beautiful bottles because the cork tops are of very POOR quality. Buy the bottles that have the screw tops. The first cork tops were horrible. Bottlestore sent another batch and they were the same horrible quality. Extremely difficult to push into the bottle and upon attempting to remove the cork top, it always comes apart. It looks as if part of the cork top is glued as it comes apart in two pieces. As a small business owner, I cannot in good faith, create a product and sell this to a potential customer, knowing the difficulties that they will have.

Do not pay attention to the people in the comments, saying that it is a wonderful product. It is not!

***BottleStore Response: ***
Dear Sheila,

We deeply regret to hear about the experience you've had with our unvarnished/unstained bar top closures to pair with your purchase of the 375ml Nordic. Please accept our sincerest apologies for any inconvenience caused. Your satisfaction is of utmost importance to us, and we take your feedback very seriously.

We understand the vital role that our products play in your business, and we are truly sorry for letting you down. As a trusted supplier, we must ensure that our quality standards are not just met but exceeded in all aspects of our business.

We're taking your review seriously and are thoroughly investigating the issue you experienced with this product for a better product in the future. Quality is a priority in all aspects of our business, to support businesses that trust in BottleStore.com.

Again, we deeply regret the inconvenience caused, and thank you for bringing this to our attention. Your understanding is greatly appreciated.

Great bottles and corks

The nordic 375 ml bottles are perfect, just what I was looking for! Great price and delivery!

10/10

Couldn't be happier with the product, or the shipping.

I'll never order bottles anywhere else.

Great!

Exactly what I needed for my limoncello! Received in less than a week!

Beautiful Bottle

Gorgeous bottle ... the heavy bottom really adds to the quality feel. Great customer service!