750ml (25.4oz) Flint (Clear) Philadelphia Oval Flask Spirits Bar Top Glass Bottle - 21.5mm Neck
100% Recyclable Container
BPA Free Type-III Soda-Lime Glass
Distinguished Oval Flask Design
Premium Spirits Bottle
Wide body panel design ideal for silk screen decorating and label application
Clear container for optimum product display
Convenient 6 Pack
Additional Information
More Information

| | |
| --- | --- |
| Price Per | $3.36 |
| Size | 750ml |
| Over Flow Capacity | 782.60ml |
| Color | Flint |
| Material / Resin | Type III Soda Lime Glass |
| Shape | Oval |
| Neck / Closure Diameter | 21.5 |
| Diameter / Width | 2.48in |
| Height | 10.9in |
| Item Length | N/A |
| Carton Pack | 6 |
| Cartons / Pallet | 175 |
Shipping / Freight Information
Our 750ml (25.4oz) Flint (Clear) Philadelphia Oval Flask Spirits Bar Top Glass Bottle - 21.5mm Neck is a premium spirits package for various liquid and dry products. The bottle features a tapered, slender oval profile, similar to the classic flask bottles associated with spirits beverages. Designed with broad shoulders and a thick glass base your product will stand out with top-shelf appeal.
The tall neck of this container features a blunt, bar-top neck with a 21.5mm neck opening. Top off this container with compatible, in-stock 22.5mm - 23mm plastic and wood bar top cork shanks for a complete, high-quality package.
This container offers ample space for silk screen decorating and label application for a creative opportunity to optimize shelf presence. Ideal for liqueur and spirits beverages, this container can be utilized in various markets and applications to include, but not limited to:
Syrups
Bar-B-Que Sauces
Cordials
Aromatherapy
Olive Oil
Flint (clear) glass enhances product display and best informs on the contents of the container.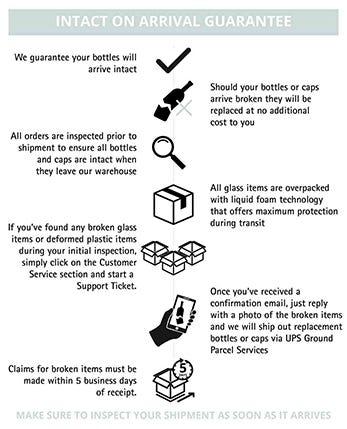 Customer Reviews
exactly want I needed.

exactly want I needed.

REALLY HAPPY I found this store

The bottles are precisely what I wanted. Very high quality. Stoppers fit perfectly. Customer service was immediately responsive. I'm ordering more in a smaller size. Highly recommend this vendor!

Quality Product

Bottles arrived on time, securely wrapped wit no broken items. Clear glass with no air bubbles. Cork tops fitted properly and will seal well.

great bottles and prices

I ordered various bottles for storing homemade drinks to give as gifts. They are great quality, especially for the price.

Belvin street bourbon

The bottles worked out phenomenal will be using all again in the future soon.