250ml Flint (Clear) Straight-Sided Round Cream Glass Jar (24 Pack) - 70-405 Neck
100% Recyclable Package
Food Contact Safe Type-III Glass
Straight body panel design ideal for silk screen decorating and label application
Clear container for optimum shelf display
70mm wide mouth diameter fits most in-stock 70-400 closures
Straight-Sided Container
Additional Information
More Information

| | |
| --- | --- |
| Price Per | $0.75 |
| Size | 8 oz |
| Over Flow Capacity | 279.5cc |
| Color | Flint |
| Material / Resin | Type III Soda Lime Glass |
| Shape | Cream Round |
| Neck / Closure Diameter | 70 |
| Neck Finish | 405 |
| Diameter / Width | 2.9 in +/- 0.047 in |
| Height | 3.6 in +/- 0.031 in |
| Item Length | N/A |
| Carton Pack | 24 |
| Cartons / Pallet | 162 |
Shipping / Freight Information
Our 250ml Flint (Clear) Glass Cream Jar with a 70-400 neck finish with a straight-sided design. The jar is made of clear glass to improve content awareness and provides an optimum shelf appearance. Made of Type-III soda-lime glass the jar is food contact safe, but this container is flexible enough to find utilization in a wide variety of markets and applications:
Personal Care and Beauty
Hand Cream and Powders
Candle Making
Dry Ingredients
Balms
Pickling
Nutraceutical
Labware
The glass jar features a 70-400 neck finish will find compatibility with most in-stock, ready to ship 70-400 plastic and metal continuous thread (CT) closures.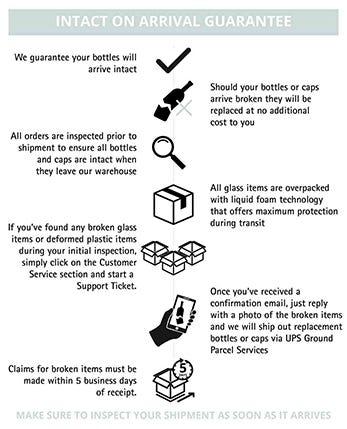 Customer Reviews
Just what I needed!

This was my first time ordering from them. I have been looking for jars like this and have finally found them. I am very pleased. Out of 48 jars, only one was chipped a little bit on the top but other than that they are perfect! These jars are pretty sturdy and strong too.

Time & Money

I've had three orders so far and each has been fast, all for a good price. Out of over a thousand jars, I've only had two show up broken. That's a lot of glass and we all know carriers aren't always/ever responsive to the Fragile stickers.

250 mL Flint glass jar (cream)

Honestly it may look like a simple jar but it's quite beautiful to look at. It has this simple elegant look to it especially when I added the black gloss screw top. I'm starting my own candle business and this was perfect. Not to mention great price too.

8oz glass jar

First time buyer and I am pleased with the quality of product. Will purchase more!! Great prices with quantity. Able to bring my small business to life without breaking the bank.
Thank you!!

250ml Flint clear straight sided round glass jars and lids

I love ordering from The Bottle Store because I can pick up my order instead of having to pay for shipping cost....glass is heavy!!

Glad found this company

The jars were professional packed and shipped. Very durable, granddaughter dropped on floor and it didn't break. Received quick and I will order more. Thanks for the great customer service.

Love these jars

I use these jars for my candles. My customers love them.

8 oz straight side jar, 70/400 top

Perfect jars for candles. Hold 8 oz wax. Short neck, so appears cleaner in line than other 8 oz straight sided jars. Inexpensive, and lowest UPS shipping rates with BottleStore. Extremely well packed, no breakages. So glad I found the BottleStore, will return often. Excellent experience. Thanks.

Perfect price point, all over great experience

I've ordered four sets of these jars in the last couple of months for making candles. They have never arrived damaged and delivery was timely. Overall excellent experience.

Love these products.

Great product for my candles. Perfect size for my customers. Will continue to use your products for my business. Thank you !