Gardening and Hydroponics Bottles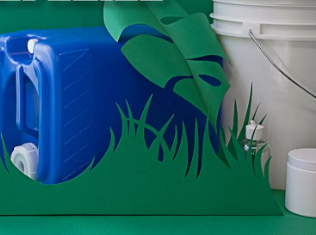 From Bottles to Drums For Those With A Green Thumb
Whether you're into gardening as a hobby, or if you operate a commercial hydroponics operation, you need sturdy containers to hold the often-harsh chemicals used in this industry. After all, you can't put fertilizer or weed killer in just any container. Instead, you must choose a strong plastic package that eliminates the risk of leakage.
Thankfully, BottleStore.com has a great selection of just such products. We have HDPE plastic jugs ranging from 16 ounces up to a full gallon, which are perfect solutions for carrying gardening and hydroponic chemicals. These F-style plastic containers have sturdy handles built into the body of the jugs for easy carrying, and we also offer different neck sizes for your convenience.
HDPE and PET Plastic Bottles in Many Different Sizes and Shapes
In addition, we provide a variety of HDPE and PET plastic bottles in many different sizes and shapes. If you're looking for large pails for bulk storage, we have HDPE buckets with handles, ranging from one gallon up to five gallons. We even have plastic and metal drums that can be used for long-term storage of many different harsh chemicals.
Choosing the Right Closures or Sprayers are of Paramount Importance
BottleStore.com also offers our popular trigger sprayers with adjustable nozzles, which allow you to mist or spray your gardening chemicals in exactly the amount you're looking to dispense. Of course, if you would prefer a standard screw-off cap or lid, we have plenty of options in this area as well. Either way, choosing the right closures or sprayers for your gardening and hydroponics bottles and jugs are of paramount importance, as any amount of leakage can be a significant problem.
If your gardening and hydroponics business requires bulk orders of any of these items, we invite you to contact one of our BottleStore.com team members today. We would love to fill you in on the discounts we have available for high-volume customers.
6.76oz (200ml) Clear PET 30% PCR Lisa Cylinder Round Plastic Bottle - 24-410 Neck (Recycled Plastic)

CLOSURE OPTIONS

$0.44

Special Price

$82.72

Regular Price

$103.40

(Per Carton)

4.23oz (125ml) Clear PET 30% PCR Tubo Slim Cylinder Round Plastic Bottle - 24-410 Neck

CLOSURE OPTIONS

6.76oz (200ml) Clear PET 30% PCR Tubo Slim Cylinder Round Plastic Bottle - 24-410 Neck (Recycled Plastic)

CLOSURE OPTIONS

$0.38

Special Price

$91.20

Regular Price

$132.00

(Per Carton)