16oz (473ml) Flint (Clear) Glass Vinegar Bottle Round - 28-454 Neck
$

0.97
(Per Piece)
12 Pieces per Carton
100% Recyclable and BPA Free Container
Type-III Soda Lime Glass
Food Contact Safe
Wide Mouth Opening For Easier Access
Premier Vinegar Container
Additional Information
More Information

| | |
| --- | --- |
| Price Per | $0.97 |
| Size | 16oz |
| Over Flow Capacity | 497.00ml |
| Color | Flint |
| Material / Resin | Type III Soda Lime Glass |
| Shape | Round |
| Neck / Closure Diameter | 28 |
| Neck Finish | 454 |
| Diameter / Width | 71.80mm |
| Height | 187.30mm |
| Item Length | N/A |
| Carton Pack | 12 |
| Cartons / Pallet | 180 |
Shipping / Freight Information
Our 16oz (473ml) Flint Glass Vinegar Glass Bottle is an ideal choice container for various mildly carbonated liquid products. Made of Type-III soda-lime glass, this container is food contact safe and capable of containing mildly acid products like vinegar. The familiar profile of this container has a wide-body panel for label application and silkscreen decoration for an enhanced shelf presence.
Our 28-1768 white rib side tamper-evident (TE) closures are ideal for a more robust package system. The 28-1768 TE closure is compatible with products of a similar profile to that of vinegar. The EVA disc liner and the tamper-evident band help ensure a proper seal is in place and product integrity is maintained from filling to shelving.
This container is suitable for a variety of markets and applications to include some of the following:
Apple Cider Vinegar
Mild Acidic Product
Sauces
Dressings
Flavor Concentrate
Nutraceutical and Homeopathic Products
This 28-454 neck finish of this container is compatible with most of our in-stock, ready to ship 28-400 plastic and metal continuous thread (CT) closures. Feel free to request a sample of bottle and closure for compatibility testing before purchase.
This container is 100% recyclable and BPA free, creating an excellent talking point when promoting your product line.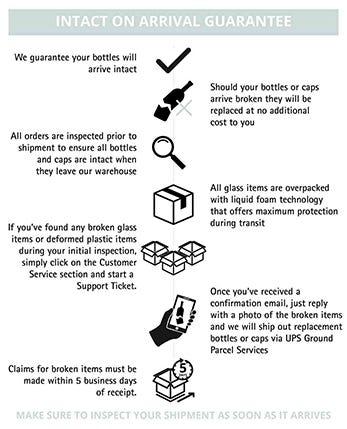 Customer Reviews
Bottles are great but caps are brittle

The bottles showed up in a timely fashion and are nice. The plastic caps are breaking. I put a cap on a bottle right after opening the package and it broke right away. Another two have broke after being in use for a couple days and broke.

Great bottle, but wasn't pleased with the metal caps

The glad arrived in perfect conditions! They are of good quality and i would order them again, the only reason I'm taking away a star is because of the cap, i chose the white metal cap for recycling purposes! But they leak if bottle isn't upright. Because of that i wasn't able to ship my product. So next time I'll order the black plastic caps.

Product OK returns policy not so much

These will not work for the intended purpose but the With return policy it is more cost effective to just trash them


**Bottlestore Response**

-- We're sorry our products did not work for your intended purposes. We provide free samples for compatibility testing purposes so you can test prior to placing an order. Unfortunately we are unable to resell returned products and wish to offer our customers the lowest wholesales pricing available, so we have a 30% restocking fee on all returns.