24-400 Silver Metal Screw Cap With Customizable Liner Options
Made to Order : 4 - 8 Weeks
Be the first to review this product
Made in USA
Tin-plated steel for maximum compatibility
Tumble pack 7,250 pieces per box
Custom made to order item with short lead time
Compatible with glass and plastic bottles 24mm opening
Thread and knurled edge side finish for easy grip and turn operation
Choose from a wide variety of liner options for your product applications
Additional Information
More Information

| | |
| --- | --- |
| Carton Pack | 7250 |
| Price Per | $0.16 |
| Neck Finish | 400 |
| Neck / Closure Diameter | 24 |
| Color | Silver |
| Material / Resin | METAL |
| Item Length | N/A |
| Height | 0.380 +/- 0.05 |
Shipping / Freight Information
24-400 silver metal screw cap with customizable liner options including PE foam, foam seal, pulp & aluminum, heat seal, aluminum foil, pressure sensitive seal, pulp & poly, and plastisol. These caps are made in USA to order, please allow 1 - 2 weeks lead time for manufacture and regular liner installation and 3 weeks for Plastisol liner installation. For orders with 5 cartons or more, please contact us for updated production time prior to placing an order.
What Liners Should I choose?
There are many factors that must be considered when selecting a liner for your product. We have put together some general guidelines and common use below. Please note that these are general guidelines and they are not meant for specific recommendations. If you have questions or would like to perform compatibility tests, please contact us with your liner requirements by emailing customerservice@bottlestore.com.
Unlined : common for candle, other dry products that doesn't require a liner
Pulp & Poly : Common with Concentrated Coffee, Beverages, Juice, Dry Health Foods, Honey, Syrup, etc.
Pulp & Vinyl : Common for chemical product such as mild acids, alkalis, solvents, alcohols, and oil
Poly & Aluminum : Common for cosmetic creams, personal care products, and automative oils, or other vegetable cooking oils
PS22 - Pressure Sensitive : Liners that bond to the land of the bottle when cap is removed. Common for dry products, pharmaceuticals, vitamins, and supplements
HS035 - Heat Induction : Liners that bonds to the land of the bottle using special equipments. Common for food, sauce, and other products requiring a seal for consumer confidence
Plastisol : Common for hot fill food and beverage items, sauce and other liquid form items. Creates a hermetic seal during the filling process when applied properly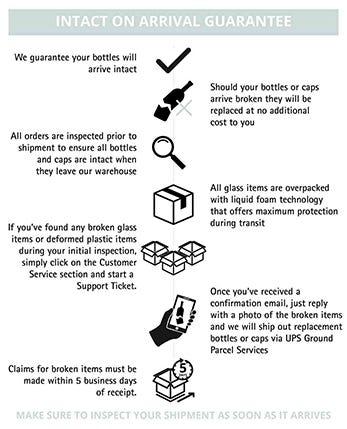 We found other products you might like!