750ml (25.4oz) Flint (Clear) Glass Las Vegas Spirits Bar Top Round - 18.5mm Neck
100% Recyclable Container
BPA Free Type-III Soda-Lime Glass
Heavy Base
Premium Spirits Bottle
Wide body panel design ideal for silk screen decorating and label application
Clear container for optimum product display
Additional Information
More Information

| | |
| --- | --- |
| Price Per | $3.20 |
| Size | 750ml |
| Over Flow Capacity | 785cc +/- 7.5cc |
| Color | Flint |
| Material / Resin | Type III Soda Lime Glass |
| Shape | Round |
| Neck / Closure Diameter | 18.5 |
| Diameter / Width | 2.69 |
| Height | 12.97" +/- 0.078" |
| Item Length | N/A |
| Carton Pack | 6 |
| Cartons / Pallet | 115 |
Shipping / Freight Information
Our 750ml (25.4oz) Flint (Clear) Las Vegas Spirits Round Bar Top Glass Bottle is the premium spirits package for various liquid products. Give your product an enhanced shelf presence with a package featuring a tall 18.5mm bar top neck, semi-rounded shoulders, and tapered sides. Complimenting this unique bottle profile is a heavy base, evoking a sense of the high quality of container and liquid product.
Create the complete package by topping off the 18.5mm neck opening with our in-stock, ready to ship metal, wood or plastic bar-top closures for that top-shelf appeal.
This container offers ample space for silk screen decorating and label application for creative opportunities. Ideal for liqueur and spirits beverages, this container can be utilized in various markets and applications to include, but not limited to:
Syrups
Dessert Wine
Cordials
Aromatherapy
Olive Oil
Flint (clear) glass enhances product display and best educates on the contents of the container.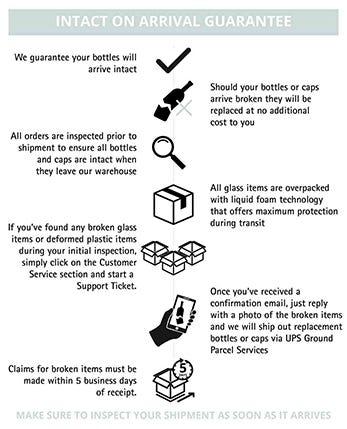 Customer Reviews
Excellent product and service

The delivery was very fast and the bottles are of excellent quality and look.

Awesome

These bottles are awesome! For the price and quality, it's the best bang for your buck.

Excellent quality and service

I liked the bottles and closures that were sent. They were exactly what was shown on the site and what I expected. The items came within the time allotted, and I was very pleased with the purchase general

Vegas 750ml

Better and heavier than I had anticipated!! Extremely pleased and will order again!!

Bottles as described

Bottles came faster than expected and were as described.