750ml (25.4oz) Flint (Clear) Moonshine Spirits Glass Bottle Round - 21.5mm Neck
100% Recyclable Container
BPA Free Type-III Soda-Lime Glass
Timeless Spirits Bottle Design
Single Finger Pistol Grip Handle
Straight body panel design ideal for silk screen decorating and label application
Clear container for optimum product display
Additional Information
More Information

| | |
| --- | --- |
| Price Per | $3.13 |
| Size | 750 ml |
| Over Flow Capacity | 782cc +/- 7.4cc |
| Color | Flint |
| Material / Resin | Type III Soda Lime Glass |
| Shape | Round |
| Neck / Closure Diameter | 21.5 |
| Diameter / Width | 3.78 in +/- 0.077 in |
| Height | 8.84 in +/- 0.062 in |
| Item Length | N/A |
| Carton Pack | 12 |
| Cartons / Pallet | 80 |
Shipping / Freight Information
Our 750ml (25.4oz) Flint (Clear) Moonshine Spirits Bar Top Glass Bottle Round is a top-shelf container with a timeless design for a wide variety of liquid products. This container features a classic spirits profile with the distinguishing pistol grip for single finger carry. The container's thick base evokes a sense of quality and enhances shelf presence. The tall neck of this container features a blunt bar-top neck with a 21.5mm neck opening. Top off this container with our compatible, in-stock 22.5mm - 23mm plastic and wood bar top cork shanks for a complete, high-quality package.
This package offers ample space for silk screen decoration and label application for a creative opportunity to optimize shelf presence. Ideal for liqueur and spirit beverages, this container can be utilized in various markets and applications to include, but not limited to:
Syrups
Bath and Spa Care
Bar-B-Que Sauces
Cordials
Kombucha
Olive Oil
Flint (clear) glass enhances product display and best informs on the contents of the container.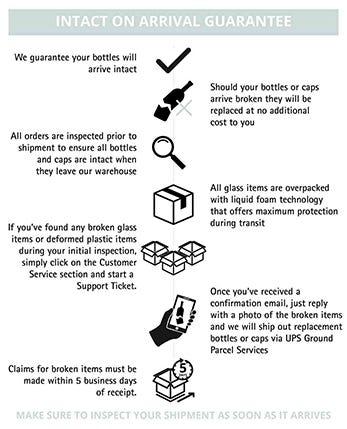 Customer Reviews
Great!

Great quality, as pictured

High Quality!

Very nice bottles and they seem very high quality. I like the neck and how thick the glass is. Perfect for my application.