Made in the U.S.A.
100% Recyclable Container
Ideal for Food and Beverage
Straight body panel design ideal for silk screen decorating and label application
BPA Free, Type-III Food-Contact Safe Glass
Compatible with most 38-400 in-stock closures
Additional Information
More Information

| | |
| --- | --- |
| Price Per | $1.26 |
| Size | 12 |
| Over Flow Capacity | 12.63 fl. oz. |
| Color | Flint |
| Material / Resin | Type III Soda Lime Glass |
| Shape | Round |
| Neck / Closure Diameter | 38 |
| Neck Finish | 405 |
| Diameter / Width | 2.75 in |
| Height | 6.44 in |
| Item Length | N/A |
| Carton Pack | 12 |
| Cartons / Pallet | 221 |
Shipping / Freight Information
Our 12oz (360ml) Flint (Clear) Stout Glass Bottle is an ideal choice for a wide variety of food and beverage applications. This container features wide mouth 38-405 neck finish for easy filling and removal of product. As a food-contact safe container this bottle is suited for Food and Beverage to include, but not limited to the following:
Bar-B-Que Sauces
Marinades
Carbonated Beverages
Cold Pressed Juices
Dressings
Vinegar and Oils
Flint (clear) glass enhances product display and best educates on the contents of the container.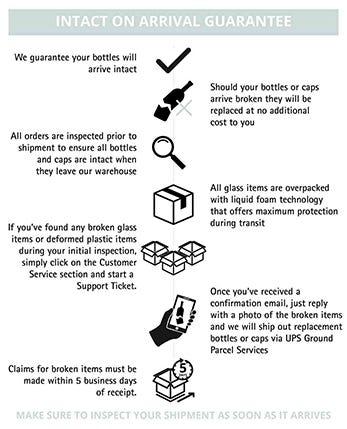 Customer Reviews
Quality product

Very quality glass; unfortunately, a bit overpriced during this period of time. Would like there to be shrink seels for the lid.

Looks as great as it taste!

This bottle is perfect for my bbq sauce. Glass make the quality shine through, so my customers can see the care I take to make their product. Only one complaint, that is doesn't come with tamper proof caps. Otherwise I'll continue to purchase. Please don't run out,business is growing!

Makes for a beautiful display

I put my handcrafted BBQ sauce inside. #UnkTiks. It's very comfortable in your hands. It might even make my sauce taste better. lol. But seriously, it a very decent bottle and it serves its purpose.

Product

I love the products and I love the customer service.

Perfect for what I needed

I bought these bottles for personal use, in the hopes to drink more water. They arrived ahead of schedule and were well protected/packaged. I love them and would recommend.

Love these

It would be great if I could just hit a button to order the same from a previous order

Not very happy with after sales service...

I'm still waiting on an answer to a question, will these caps work/seal for water bath canning? I've reminded Jolie Marrin twice now, and still have not received an answer. Not really her fault, though. She's been asking, and no one is answering her either. It's been about 3 weeks now since I've asked the first time.

**Bottlestore Response**

Hi Robert,

Apologies for the inconvenience, we are looking into this and will get back shortly!

perfect

These bottles are perfect for my tonic, is there a larger size?

PERFECT

These bottles are perfect and mean the world to our business. Shipping is done quick and prompt. Couldn't not ask for better service these guys are the best!! High recommended!

Great product