16oz (473ml) Flint (Clear) Glass Stout Round Bottle - 38-1768 Tamper Evident Neck
100% Recyclable and BPA Free Container
Type-III Soda Lime Glass
Food Contact Safe
Wide Mouth Opening For Easier Access
Ideal for Carbonated Beverages
Additional Information
More Information

| | |
| --- | --- |
| Price Per | $1.90 |
| Size | 16 |
| Over Flow Capacity | 20.49oz |
| Color | Flint |
| Material / Resin | Type III Soda Lime Glass |
| Shape | Round |
| Neck / Closure Diameter | 38 |
| Neck Finish | 1768 |
| Diameter / Width | 3.00in |
| Height | 7.32in |
| Item Length | N/A |
| Carton Pack | 12 |
| Cartons / Pallet | 180 |
Shipping / Freight Information
Our 16oz (473ml) Flint Glass Stout Round Bottle is an excellent container for a wide variety of applications. The tall neck and wide mouth 38mm opening allow for easier filling and access to liquid product.
The neck finish features a tamper-evident neck, compatible with our in-stock, ready to ship 38-1768 tamper-evident closures with EVA disc liners (capable of holding up to 3.5 volumes of CO2 pressure) for a complete, secure package.
This container is popular in a variety of food and beverage applications but can find utilization in additional markets and applications:
Cold-Press Juices
Sauces and Marinades
Carbonated Beverages
Kombucha
Bath and Spa Care
This container is compatible with most of our in-stock 38-400 plastic and metal screw caps without tamper evident features for a complete package solution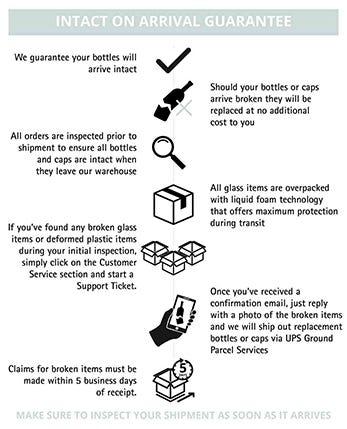 Customer Reviews
Perfect!

Exactly what I was needed! Great product and great service!

Great Experience

Timely. Securely packed, no breakage. Looking forward to continued business with the BottleStore.