38-400 White Smooth Side Smooth Top Plastic Screw Cap - Pressure Sensitive Seal Liner
Made in the U.S.A.
Includes Pressure-Sensitive (PS22) Liner - SFYP Printed
Recyclable Plastic Materials
BPA-Free Plastic
Smooth Sides with a High-End Look
Additional Information
More Information

| | |
| --- | --- |
| Carton Pack | 100 |
| Price Per | $0.07 |
| Neck Finish | 400 |
| Neck / Closure Diameter | 38 |
| Color | White |
| Material / Resin | PP |
| Diameter / Width | 1.58in +/- 0.010in |
| Item Length | N/A |
| Height | 0.443in +/- 0.008in |
| Liner Material | PS22 |
Shipping / Freight Information
BottleStore's 38-400 White Smooth-Side Smooth-Top PP Plastic Continuous Thread (CT) Cap is an excellent combination of style and function.
The smooth sides of this cap evoke a sense of class and style, adaptable to several applications in the personal care and beauty markets. The shiny plastic enhances shelf appeal for the overall complete package.
The closure comes with a ready assembled pressure-sensitive, PS22, liner with "Sealed For Your Protection Printed. PS22 liners are excellent solutions for dry products. An advantage of PS22 liners is their easy sealing activation, no equipment necessary. Simply torque the closure onto the neck of the container and the liner will create a sticky seal, remaining in place after the closure is removed.

This closure is compatible with the following application and market segments:
Tablet and Caplets

Powders and Granules

Spices

Nutraceutical

Capsules

Supplements

Personal Care and Homeopathic Applications
This closure is compatible with most of BottleStore's in-stock, ready-to-ship glass and plastic containers featuring a 38-400 neck finish.
For additional knowledge about liners and their functions, visit our The Bottle Blog post: Understanding Liners, and Their Appropriate Uses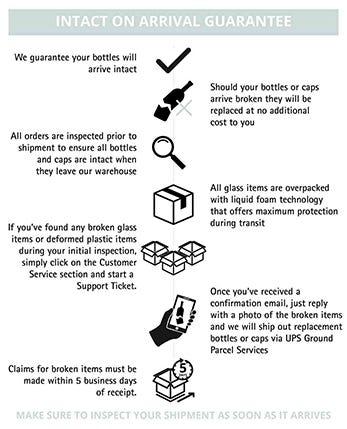 Customer Reviews
Excellent product and service

I really like this company. The products are very good, reasonably priced, and the company has excellent customer service.

Notification about (SKU: 0301145

This product should be in stock on the 11th of Aug please let me know as soon as it is available.


**Bottlestore Response**

Hello Otto,

You can sign up for email notifications for when this specific item is in stock again through the product page on our site.