BBQ and Hot Sauce Bottles and Jars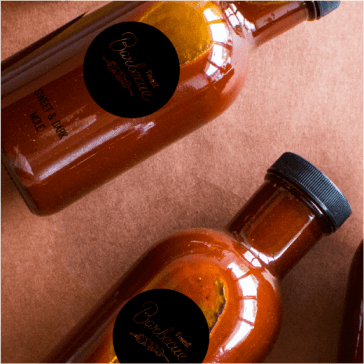 Bottles for Sauces, Chutneys, and Relishes - Oh My!
Do you have a recipe for BBQ sauce, hot sauce, or salsa that you would like to sell - and all you need are the empty glass sauce bottles? Finding the perfect bottle or jar is almost as important as using high-quality ingredients for the sauce itself, as it can be the difference between your product flying off the shelves or being overlooked among the crowd of competitors.
Especially considering the popularity of giving specialty sauces as gifts, it's crucial that you package your BBQ or hot sauce in packaging that is eye-catching and appealing, without sacrificing durability or safety. At Bottlestore.com, you'll find the empty hot sauce bottles, hot sauce jars, and bbq sauce plastic squeeze bottles that complement your tasty concoctions, ensuring your customers get to experience your sauces at the peak of freshness.
We always recommend that BBQ sauces and salsas be packaged in clear containers that display their contents. After all, you want potential customers to be able to see the vivid colors and textures of your delicious sauces.
The most popular option for sauce bottles is the classic glass bottle. We have several different options for shapes and sizes of glass sauce bottles — whether you're looking for a round body or an oval body, a long neck or a short one, we have the right bottle for you. We have sauce bottles as small as 200ml and as large as 16 ounces, and we also offer many different metal and plastic closures for each style of bottle.
If you're seeking a more durable and easy-to-ship option, we have both PET and HDPE plastic bottles available. We even offer dry containers for spices and dry rubs, in both plastic and glass options, with flip-top closures to allow customers to easily sprinkle and shake your product onto their food.
With bottles and closures from BottleStore.com, your BBQ or hot sauce will hit the shelves in a package that highlights its natural colors, while also keeping the contents fresh.