100% Recyclable Container
Straight body panel design ideal for silk screen decorating and label application
BPA Free, Type-III Food Contact Safe Glass
Clear container for optimum display
Compatible with most in-stock 33-400 closures
Ideal for bulk packaging
Additional Information
More Information

| | |
| --- | --- |
| Price Per | $1.41 |
| Size | 32 oz |
| Over Flow Capacity | 997 cc |
| Color | Flint |
| Material / Resin | Type III Soda Lime Glass |
| Shape | Boston Round |
| Neck / Closure Diameter | 33 |
| Neck Finish | 400 |
| Diameter / Width | 3.7 in +/- 0.062 in |
| Height | 8.125 in +/- 0.062 in |
| Item Length | N/A |
| Carton Pack | 30 |
| Cartons / Pallet | 36 |
Shipping / Freight Information
32oz (960ml) Flint (Clear) Boston Round Glass Bottles are excellent containers, best displaying your product. Featuring an 33-400 neck finish this bottle is compatible with most of our in-stock 33-400 plastic continuous thread (CT) closures. 33-400 metal CT closures are available for made to order purchasing and are available in various colors and liner options.
This container is made of 100% recyclable BPA free, food contact safe Type-III glass and compatible with a wide variety of product formulations. This container can be found in various markets to include but not limited to:
Health and Beauty
Personal Care
Extracts
Essential Oils
Beverage
Flint (clear) glass enhances product display and best informs on the contents of the container.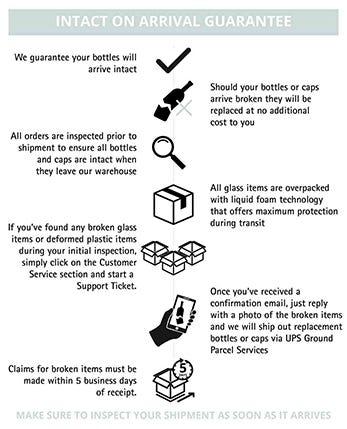 Customer Reviews
Bottles had hairline cracks, white dots, and other imperfections

All bottles in the case had something wrong with them. They all had hairline cracks on the inside of the bottle, most had small white specks on them. I'm assuming these bottles were in storage a longtime or went from extreme cold to regular temp which would explain the cracks and some residual snowflake and frost residue.

I did not do a full close up inspection when bottles arrived so when I finally had time to bottle my chai is when I noticed the damage. So I was not able to return or be issued a refund.

You may get lucky and get a good case, just please make sure to open the box and inspect every bottle before their 5 day policy is up, otherwise S.O.L. like me.

**BottleStore Response**

Hi Keith,

We apologize for any inconvenience. Someone from our team is looking into this and will reach out shortly.

A couple bottles came broken

Ordered 120 bottles one of the boxes had a few broken bottles




*BottleStore Response*

Hi Dashaw,

Someone from our team has looked into this for you and will reach out to you shortly.

Hi
We found other products you might like!