Made in the U.S.A.
100% Recyclable Package
Food Contact Safe Type-III Glass
Straight body panel design ideal for silk screen decorating and label application
Ideal for light-sensitive product
89mm wide mouth diameter fits most in-stock 89-400 closures
Straight-Sided Container
Additional Information
More Information

| | |
| --- | --- |
| Price Per | $1.62 |
| Size | 16oz |
| Over Flow Capacity | 476.70cc |
| Color | Amber |
| Material / Resin | Type III Soda Lime Glass |
| Shape | Round |
| Neck / Closure Diameter | 89 |
| Neck Finish | 405 |
| Diameter / Width | 3.58in |
| Height | 3.78in |
| Item Length | N/A |
| Carton Pack | 20 |
| Cartons / Pallet | 32 |
Shipping / Freight Information
Our 16oz (480ml) Amber Glass Cream Jar with a 89-405 neck finish is an excellent package for shelf differentiation and protection. On top of the many benefits glass has to offer, amber glass provides the extra benefit of providing an ultraviolet (UV) inhibitor.
Protection from UV light is ideal for product with light-sensitive properties and ingredients. Made of Type-III soda-lime glass this jar is food contact safe, but flexible enough to find utilization in a wide variety of markets and applications:
Personal Care and Beauty
Hand Cream and Powders
Candles
Dry Ingredients
Balms
Nutraceutical
Labware
The glass jar features an 89-405 neck that is compatibility with most in-stock, ready to ship 89-400 plastic and metal continuous thread (CT) closures.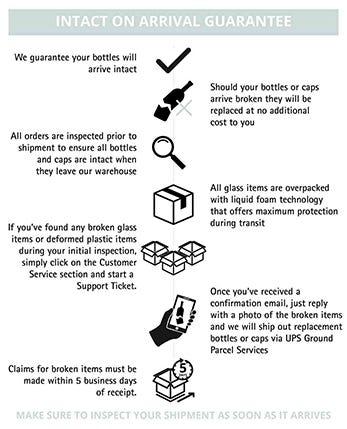 Customer Reviews
Broken

Love the jars but every time I order, multiple arrive broken

Best 16oz Jars

I love the color and shape. These are the only glass jars I buy. Service is 100% spot on when something is broken.

Jars

Great jars and lids delivered quickly.

Great jars

Color is fantastic.. size only holds 13oz but I am good with it.

always clean upon arrival and great jars!

These jars never have a film on them, so a simple wipe with rubbing alcohol just takes a quick minute. So thankful they are back in stock and that they ship VERY quickly.

Love these jars!!

Perfect for my candle line. 2 jars came in broken and they were quickly replaced.

Great product

The jars are nice and heavy very pleased with the quality. Maybe not the ideal container for candles as the center of jar has a bow that is less than perfect for wicks to wax ratio. There is always a good bit of wax around the bottom outside of container while the middle has all burned out.

Love These Jars

I am loving the amber glow of these jars for my candle line. Perfect.

Great Jars - wicks fell to the side

The jars are perfect for what i was looking for. However I make essential oil candles with wood wicks that use a flat metal clasp to hold the wood. Whenever the wax would get a little less than a 1/4 of the way burned the metal clasp holding the wick would slide slightly to the side of the jar. I believe this comes from the raised dimple in the bottom of the jar. Specifically for my wicks it has this issue. I dont see any problems with other wicks listed so this may pertain to just the standard metal clasp that hold wood wicks. I did a burn test to see how long the jar could stand direct flame on the glass before breaking and it never broke. Its not a defect of the product. I felt it necessary to share my experience for anyone wishing to use wood wicks. Bottlestore otherwise has amazing products and super safe shipping and the best customer service ive ever dealt with. These jars hold up 100% otherwise!

Love these jars

The jars get a 5 stars! They are exactly what I was in search of for my candle business!