100% Recyclable Container
Type-III Food Contact Safe Soda-Lime Glass
Extend product shelf life with amber glass for ultraviolet (UV) protection
Drip-Free Pouring
Straight body panel design ideal for silk screen decorating and label application
Compatible In-Stock Closures Available for Leak-Proof Package
Additional Information
More Information

| | |
| --- | --- |
| Price Per | $1.04 |
| Size | 20oz |
| Over Flow Capacity | 620.00cc |
| Color | Amber |
| Material / Resin | Type III Soda Lime Glass |
| Shape | Round |
| Neck / Closure Diameter | 28 |
| Neck Finish | 430 |
| Diameter / Width | 3.21in |
| Height | 7.3in |
| Item Length | N/A |
| Carton Pack | 24 |
| Cartons / Pallet | 70 |
Shipping / Freight Information
Our 20oz (600cc) Amber Pour-Out Round Glass bottles are excellent containers for a leak-proof, non-drip package. The 28-430 neck finish of this container features a pour lip that avoids unnecessary loss of product by preventing drips at the edge of the opening. Combine this package with our in-stock 28-430 phenolic (black) or urea (white) closures for a complete leak-proof package. The LDPE cone liners within the closures help to create a worry-free, leak-proof seal.
This container is made of 100% recyclable BPA free, food contact safe, type-III soda-lime glass. This glass container is compatible with a wide variety of product formulations and can be utilized in various markets and applications to include but not limited to:
Bulk Container
Bath and Body
Personal Care
Spa Products
Nutraceutical
Essential Oils
Flavorings
Amber glass enhances shelf display and further enhances product protection from UV light that can degrade product with light-sensitive ingredients.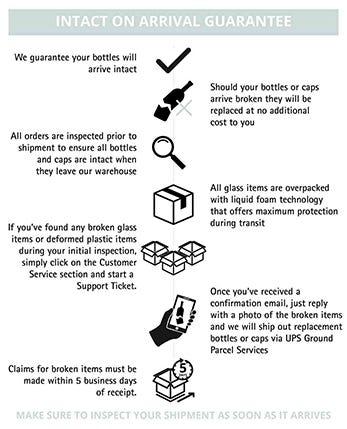 Customer Reviews
No drip pouring

Purchased to store bulk essential oils in. Quick shipment. Easy transaction. Affordable. Next closest bottle cost over 7 times the price! Paid 80 cents each. Kawabunga has the same shape glass; it is a bit heavier and thicker. However, at almost $5 each they were not in my price range. I am very happy with my purchase!