100% Recyclable Container
BPA Free Type-III Soda-Lime Glass
Classic Spirits Bottle Design
Straight body panel design ideal for silk screen decorating and label application
Clear container for optimum product display
Additional Information
More Information

| | |
| --- | --- |
| Price Per | $1.83 |
| Size | 375ml |
| Over Flow Capacity | 395.5ml +/- 5.5ml |
| Color | Flint |
| Material / Resin | Type III Soda Lime Glass |
| Shape | Round |
| Neck / Closure Diameter | 18.5 |
| Diameter / Width | 2.97in + 0.077in / - 1.2in |
| Height | 6.8in +/- 0.047in |
| Item Length | N/A |
| Carton Pack | 12 |
| Cartons / Pallet | 165 |
Shipping / Freight Information
Our 375ml (12.7oz) Flint (Clear) Glass Oregon Spirits Bar Top Round bottle is a top-shelf container for a wide variety of liquid and dry products. This container features a classic spirits profile with broad shoulders and even glass distribution for a minimal profile. The tall neck of this container features a blunt bar-top neck with an 18.5mm neck opening. Top off this container with our compatible, in-stock 19.5mm bar top cork shanks for a complete, high-quality package.
This package offers ample space for silk screen decoration and label application for a creative opportunity to optimize shelf presence. Ideal for liqueur and spirit beverages, this container can be utilized in various markets and applications to include, but not limited to:
Syrups
Bath and Spa Care
Bar-B-Que Sauces
Cordials
Salad Dressing
Sea Salts
Flint (clear) glass enhances product display and best informs on the contents of the container.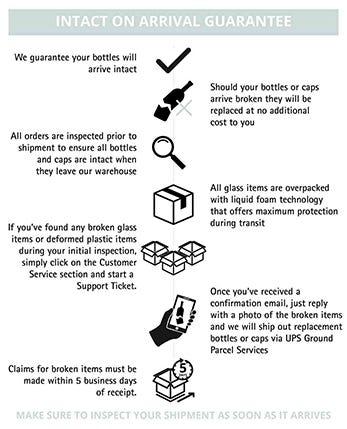 Customer Reviews
375ML (12.7OZ) FLINT (CLEAR) GLASS OREGON SPIRITS BAR TOP ROUND - 18.5MM NECK

Love the look. Solid bottle. I got two different bottles but I am choosing this one for my artisan cocktail syrups. All bottles came in tact and no problems. Im ordering more. Cheers,

***BottleStore Reply***
Hi Yusef,

We're so glad with your satisfaction of the product and wish the best for your line of artisan cocktail syrups. We appreciate your business and hope we can service you again in the future.

Just what the doctor ordered

Great bottles for downsizing from 1 liter bottles, easy to handle, well made. Expertly packed, they arrived without incident.

Beautiful Bottles

They look better in person and my order came fast and on time I will order again

Great Product and Fast Delivery

Great product. Solid and exceptional quality for the price! Shipped fast and arrived on time despite COVID slowdowns.

Exactly What I Was Looking For

Great for bourbon "bottle splits" with my whiskey club.

Exactly What I Was Looking For

Great for bourbon "bottle splits" with my whiskey club.

Has a nice old fashion appeal

What else can I say, Great place to shop

Great bottles and stoppers!

These bottle are perfect for my "moonshine" project!

Great product and service

First time buyer....will definitely order again. Great service...got bottles to me before Christmas. Didn't fully expect them in that fast since I was a last minute shopper. Thank You!! The bottles were exactly what I needed and are great quality. Received a lot of compliments on them from friends.

Great as usual!

This company and their products never fail!