Glass Liquor and Spirits Bottles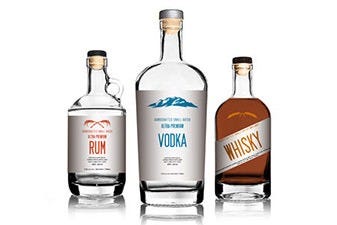 Custom Liquor Spirit Bottles
The distinctive shape and design of a glass liquor bottle and its label is often what is most remembered by consumers. If you are distilling and bottling your own brand of liquor and spirits, BottleStore.com has a large inventory of stylish glass bottles in a variety of sizes, including miniature liquor bottles for product samples. Our bottles are made with high-quality glass to ensure your products' natural colors shine through.
Marketing your liquor and spirits product in a unique bottle will help attract attention and set your product apart from the rest. Our durable glass liquor bottle shapes include Boston Round, Nordic Spirits Round, and Moonshine Round Spirits, each one perfect for your manufacturing needs. Whether you are making your own whiskey, wine, or tequila, BottleStore.com has the right packaging options for you.
Bulk pricing is available for large volume orders and each order can be customized to fit your needs and budget. If you are not sure which bottle you need to house your spirits, contact a member of our experienced bottle team for help. In addition to our large selection of glass bottles, we also provide matching caps, including tamper-evident closures and authentic cork tops to protect your liquor and spirits.
Whether you need a small, 1-ounce bottle or a large-sized 32-ounce jug, our BottleStore.com team can provide a wide variety of options for your production needs. Take your liquor and spirits business to the next level with our packaging solutions.
Narrow Your Results
Bottle Size

-

Neck / Closure Diameter

Neck Finish