100% Recyclable Container
Amber color adds UV product protection
Straight body panel design ideal for silk screen decorating and label application
BPA Free, Type-III Food Contact Safe Glass
Compatible with most in-stock 33-400 closures
Ideal for bulk packaging
Additional Information
More Information

| | |
| --- | --- |
| Price Per | $1.52 |
| Size | 32 |
| Over Flow Capacity | 997ml |
| Color | Amber |
| Material / Resin | Type III Soda Lime Glass |
| Shape | Boston Round |
| Neck / Closure Diameter | 32 |
| Neck Finish | 405 |
| Diameter / Width | 3.687 in +/- 0.062 in |
| Height | 8.125 in +/- 0.062 in |
| Item Length | N/A |
| Carton Pack | 20 |
| Cartons / Pallet | 60 |
Shipping / Freight Information
32oz (946ml) Amber Boston Round Glass Bottles are excellent containers for product protection and enhanced display. Featuring an 33-400 neck finish this bottle is compatible with most of our in-stock 33-400 plastic continuous thread (CT) closures. 33-400 metal CT closures are available for made to order purchasing and are available in various colors and liner options.
This container is made of 100% recyclable BPA free, food contact safe Type-III glass and compatible with a wide variety of product formulations. This container can be found in various markets to include but not limited to:
Health and Beauty
Nutraceutical
Extracts
Essential Oils
Beverage
Amber glass enhances product display and further enhances product protection from UV light that can degrade products with natural ingredients.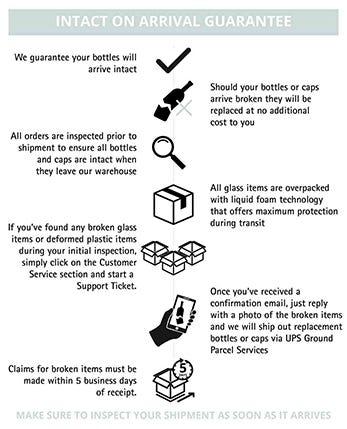 Customer Reviews
Loved our first shipment of bottles

Best prices and good customer service. Oberk is their parent company so they usually are the ones to respond.
Excellent quality and no damage in delivery.

Love These!

We have been using these bottles and caps for our kombucha business for the past couple years. This company provides timely delivery, great customer service, and I can't beat their prices anywhere. Highly Recommend! ...But don't buy up them all up, we need them! ;P

We got 3 boxes of broken bottles

Awful service! I have sent three emails and got 0 responses. I am thinking of going to small claims court here in California. These people do not have any respect about customers.


**Bottlestore Response**

We apologize for any inconvenience, our team is looking into this for you and will reach out to you shortly.