100% Recyclable Container
Straight body panel design ideal for silk screen decorating and label
application
BPA Free, Type-III Food Contact Safe Glass
Clear container for optimum display
Compatible child-resistant droppers available
Compatible with most in-stock 22-400 closures
Additional Information
More Information

| | |
| --- | --- |
| Price Per | $0.34 |
| Size | 4oz |
| Over Flow Capacity | 127.5cc |
| Color | Flint |
| Material / Resin | Type III Soda Lime Glass |
| Shape | Boston Round |
| Neck / Closure Diameter | 22 |
| Neck Finish | 405 |
| Diameter / Width | 1.9 in +/-+ 0.031 in |
| Height | 4.4 in +/- 0.031 in |
| Item Length | N/A |
| Carton Pack | 160 |
| Cartons / Pallet | 54 |
Shipping / Freight Information
Discover the unparalleled aesthetic and functionality of our 4oz (120ml) Flint (Clear) Boston Round Glass Bottles, now with an innovative and eco-friendly twist. Showcasing your product with grace and clarity, these containers are your go-to choice, harmonizing perfectly with our diverse range of 22-400 plastic and metal closures, thanks to its 22-405 neck finish.
Experience peace of mind with our containers crafted from 100% recyclable, BPA-free, and food-contact safe Type-III glass. Not only are these bottles a sustainable choice, but they are also versatile, compatible with a vast array of product formulations, keeping up with your commitment to the environment without compromising on quality.
These versatile containers have made a mark in various sectors, seamlessly integrating into:
Health and Wellness
Personal Care and Cosmetics
Botanical Extracts
Aromatherapy and Essential Oils
Scientific Laboratories
Experience the transparent charm of Flint (clear) glass which not only elevates the product display but also offers an honest and elegant insight into the contents of the container, fostering trust and premium presentation.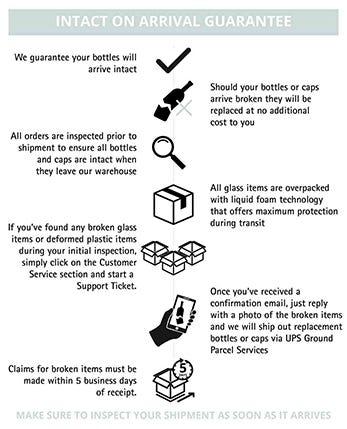 Customer Reviews
Perfect bottle for my needs

I am thrilled with these bottles! They seem tough, look nice, and have served me well. I loved being able to get exactly what I had envisioned and I was thankful for the great selection! The customer service was wonderful, too. Thank you, Bottle Store!

Great Experience

This was a great experience. The customer service was quick and helpful. I will definitely continue to order.

Great Product

Really great product. Perfect for sample sizes to customers!