8oz (240ml) Clear PET Wide Mouth Square Beverage Bottle - 38-385 Tamper Evident Neck
Made in the U.S.A.
Food Grade Safe, BPA Free Plastic
HPP Compliant
Ideal Beverage Container
Precision Tamper Evident Neck Finish for Maximum Consumer Protection
Closures Include Plug Seal System
Additional Information
More Information

| | |
| --- | --- |
| Price Per | $0.49 |
| Size | 8 oz |
| Color | Clear |
| Material / Resin | PET |
| Shape | Square |
| Neck / Closure Diameter | 38 |
| Neck Finish | 385 |
| Diameter / Width | 74mm |
| Height | 104mm +/- 1mm |
| Item Length | 74mm |
| Carton Pack | 480 |
| Cartons / Pallet | 10 |
Shipping / Freight Information
Our 8oz (240ml) Clear PET Square Beverage Bottles are ideal packages for a wide variety of non-hot-fill juice and beverage products. This container features a 38-385 tamper neck finish, compatible with our in-stock 38-385 tear-away band plastic caps. Closures are available in 9 color options to choose from with a plug seal liner to prevent leakage and maintain product integrity.
The container features steep shoulders and a square body panel design with plenty of room for silk screen decorating and label application.
This container is a great choice for a variety of beverage products but can also be found in the following markets and applications:
Bar-B-Que Sauces
Marinades
Dressings
Cold Brew Coffee
Cold-Pressed Raw Juices
These PET bottles are not hot-fill compatible and can only withstand temperatures up to 140 degrees Fahrenheit. It is highly recommended for anything over 120 degrees Fahrenheit to undergo testing prior to purchase. To elaborate further package testing please refer to our Bottle and Product Compatibility Testing Disclaimer.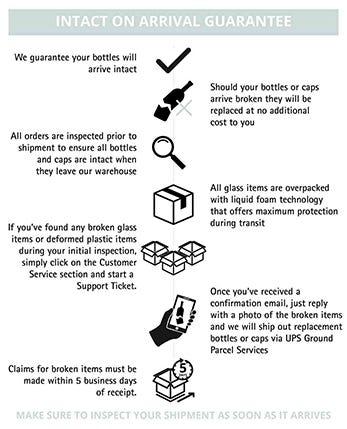 Customer Reviews
Samples

Hi, I was thinking about purchasing these bottles, but i wanted to make sure theyre really the ones i want to invest in before buying that many of them. Is there anyway i can purchase a sample quantity to test them out?


**Bottlestore Response**

Hello Chelsy,


Yes, you can make a sample request through the "contact us" tab.

These clear resin were perfect

Exceptional value, and great appearance. People who received the finished product in these bottles loved them! Plus a good, reliable company, too.