100% BPA Free and Recyclable
Straight body panel design ideal for silk screen decorating and label application
Type-III Soda Lime Glass
Ultraviolet (UV) Inhibitor
Wide mouth for easy filling and dispensing
Additional Information
More Information

| | |
| --- | --- |
| Price Per | $1.93 |
| Size | 950cc |
| Over Flow Capacity | 1002.7 cc +/- 11.1 cc |
| Color | Amber |
| Material / Resin | Type III Soda Lime Glass |
| Shape | Wide Mouth Jar |
| Neck / Closure Diameter | 53 |
| Neck Finish | 400 |
| Diameter / Width | 3.89 in +/- 0.062 in |
| Height | 7 in +/- 0.047 in |
| Item Length | N/A |
| Carton Pack | 12 |
| Cartons / Pallet | 88 |
Shipping / Freight Information
Boasting a robust 950cc (32oz) capacity, our Amber Glass Wide Mouth Bottles are designed with a sleek, straight base and a wide shoulder profile. Commonly used in the Pharmaceutical and Nutraceutical industries, these bottles are ideal for storing capsules and tablets. Their 53-400 wide mouth neck finish enhances the ease of product filling and retrieval. Crafted from food-safe, type-III soda-lime glass, these containers are perfect for diverse applications.
The amber hue of the glass isn't just for aesthetics; it serves as a protective barrier against ultraviolet (UV) light. This feature is particularly beneficial for liquids containing light-sensitive ingredients, safeguarding them from the damaging effects of UV rays.
The bottle's smooth, straight body panel is an excellent canvas for branding and customization. Whether it's silk-screen decorating or label application, these containers offer ample space to create a distinct packaging experience. Versatile and practical, our amber bottles are suited for various uses including:
Nutraceuticals
Light-Sensitive Products
Bulk Storage
Natural Ingredient Packaging
Laboratory Use
Each amber glass bottle comes with a 53-400 neck finish, compatible with a wide range of our in-stock, ready-to-ship 53-400 plastic and metal continuous thread (CT) closures. Combine these glass bottles with a plastic or metal closure for a packaging solution that is 100% recyclable.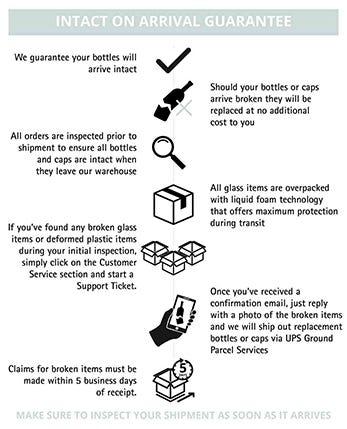 Customer Reviews
Amber Glass 32oz

It was the right product to replace my old item in stock. nit to mention the time of delivery was faster than my old supplier. Thank you Bottle Store!